The London HQ of the Unified Intelligence Taskforce (also known as the United Nations Intelligence Taskforce) was the command centre of the British branch of UNIT. It was part of the European commitment of UNIT.
UNIT HQ in London was supplemented by the Assault Platoon and at least two support platoons. (DW: "The Invasion", "Spearhead from Space") Other British facilities included UNIT Base 5, the Black Archive, a radar tracking station, a prison facility, a base in Belfast and a South London safe house. (SJA: "Death of the Doctor", "Enemy of the Bane", DW: "Spearhead from Space", TOR: "Fragments", DW: "The Stolen Earth", "The Zygon Invasion")
24 Cornwall Gardens
Edit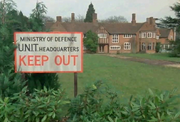 Tower of London
Edit
Personnel
Edit
Commanding officers
Edit
Senior personnel under Lethbridge-Stewart's command
Edit
Scientific advisers and assistants
Edit
Appendices
Edit
Appearances
Edit
References
Edit
Background
Edit
Ad blocker interference detected!
Wikia is a free-to-use site that makes money from advertising. We have a modified experience for viewers using ad blockers

Wikia is not accessible if you've made further modifications. Remove the custom ad blocker rule(s) and the page will load as expected.