Tarak Ital, MD was a Pakistani astronaut who served as base physician on the Bowie Base One mission in the late 2050s.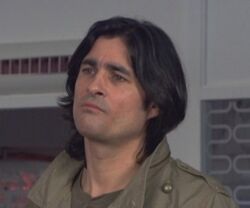 Ital was born in 2026. Growing up in Karachi, his thoughts were less in space and more in the athletic field. Ital spent much of his childhood and adolescence in training for both sprinting and high jump. In the 2044 Olympics in Havana, he represented his country in the 400 metres and obtained the highest accolade of a gold medal. Pakistan had high hopes for him in the 2048 Olympics in Paris, but in a startling change of career, Ital applied to the Aga Khan University to study medicine. Having given up his training and his athletic career, he received an often venomous reaction from the people of Pakistan, who felt he had turned his back on his country. This was exacerbated when he accepted an elective at Harvard University.
While at the Ivy League school, Ital began to specialise in the conditions experienced by the human body whilst in space. He applied for a grant from NASA to develop a transdermal dimenhydrinate patch which specifically overcame the symptoms caused by the gravity conditions on Mars. Ital was later brought over to the Space Radiation Health Research department of the Johnson Space Center. He met and immediately became friends with Yuri Kerenski while on a training course at the space centre. When Ital was selected for the Bowie Base One mission, he recommended that Kerenski come onboard as the base nurse. (DW: "The Waters of Mars")
Ad blocker interference detected!
Wikia is a free-to-use site that makes money from advertising. We have a modified experience for viewers using ad blockers

Wikia is not accessible if you've made further modifications. Remove the custom ad blocker rule(s) and the page will load as expected.