Steffi Ehrlich was a German astronaut who served as senior technician on the Bowie Base One mission in the late 2050s.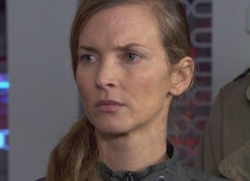 Ehrlich was born in Iserlohn, Germany in September 2021. After finishing secondary school there and two years in the Bundeswehr, she studied physics at the RWTH Aachen University. In 2042, she was awarded a diploma degree, and a doctorate four years later, both in the field of solid state physics.
After two post-doctorate positions at the Argonne National Laboratory in Chicago, Illinois and the University of California at Berkeley, she was selected in 2048 to join the German astronaut team, a branch of the European Space Agency. From 2048 to 2050, she completed basic training at the German Aerospace Centre, and was then nominated to be in the prime crew for the tenth German moon mission.
In 2051, she married her childhood sweetheart, Hans Stott, and they went on to have two children named Ulrika and Lizette. Shortly after Ulrika was born, Ehrlich was selected to join the Bowie Base One mission. She originally refused the placement due to the mission's longevity and potential risk. Although torn between family life and the opportunity of colonising Mars, an incident that devastated many parts of the country led Ehrlich to declare "I don't want to live here anymore." (DW: "The Waters of Mars")
Ad blocker interference detected!
Wikia is a free-to-use site that makes money from advertising. We have a modified experience for viewers using ad blockers

Wikia is not accessible if you've made further modifications. Remove the custom ad blocker rule(s) and the page will load as expected.