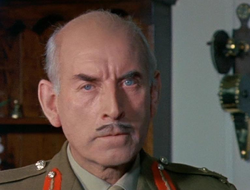 Major General Scobie was a British Army general who served as the liaison to the regular army for the United Nations Intelligence Taskforce's operations in the United Kingdom during the early 1970s. (DW: "Spearhead from Space")
Background
Edit
Scobie was played by Hamilton Dyce.
Scobie's uniform displays twelve military and chivalric awards, including the Order of the British Empire (Military Division), the Distinguished Service Order, the Military Cross, the Italy Star, the France and Germany Star, the Defence Medal and the Korea Medal. Foreign awards include the medal of a Chevalier of the Legion of Honour.
Ad blocker interference detected!
Wikia is a free-to-use site that makes money from advertising. We have a modified experience for viewers using ad blockers

Wikia is not accessible if you've made further modifications. Remove the custom ad blocker rule(s) and the page will load as expected.