Richard Milhous Nixon was an American politician who served as the President of the United States during the late 1960s and the first half of the 1970s, his term of office beginning in 1969.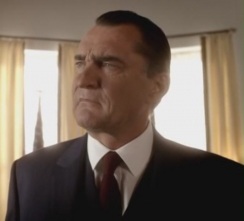 A depiction of him in the form of a wax figure was present at the Madame Tussauds waxworks in London during the early 1970s. (DW: "Spearhead from Space")
External link
Edit
Ad blocker interference detected!
Wikia is a free-to-use site that makes money from advertising. We have a modified experience for viewers using ad blockers

Wikia is not accessible if you've made further modifications. Remove the custom ad blocker rule(s) and the page will load as expected.