"Real Time" is a Doctor Who animated serial that was produced for the BBC's Doctor Who - The Classic Series website.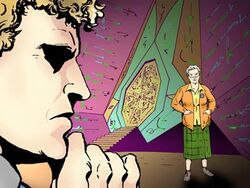 Episode One
Edit
Episode Two
Edit
Episode Three
Edit
Episode Four
Edit
Episode Five
Edit
Episode Six
Edit
Background information
Edit
Links and references
Edit
Uncredited performers
Edit
Non-speaking characters
Edit
References
Edit
1927; 1951; 26th century; 3286; 45,500
accountant; Achilles; Adam and Eve; administrator; Atlantic Ocean; brain; Brodie's Notes; Cassius; cat badge; Christ, Jesus; Chronos; Chronos native; Chronos script; Chronosphere; commander; computer; Constitution of Gallifrey; conversion chamber; Cyber Control (Chronos); Cyber Control (Earth); Cyber Leader; Cyberman; cybernetic conversion; Cyber Wars; Dalek; delta wave augmenter; dentist; divergent timeline; doctor; the Doctor's TARDIS; Draconian; Earth; echo field; Eden; electricity; Gale, Dorothy; Gallifrey; genocide; God; gold; hologram; Holy Grail; John, Prester; Kousmakis, Tom; Lindbergh, Charles; Mayan; metal; Mondas; mothership; nanite; nanotechnology; nervous system; organic-techno virus; Orion; plastic; professor; project commander; radiation; radio; research station; retrovirus; rheumatism; Shuttle 4; skin drone; Solar System; Sontaran; Spirit of St. Louis; subcutaneous transponder; survey team; TARDIS key; techno-organic virus; temple; temporal energy; Time Lord; time paradox; time portal; time travel; Tin Man; trooper; ultraviolet frequency scrambler; vacuum cylinder; video conference; web of time
Ad blocker interference detected!
Wikia is a free-to-use site that makes money from advertising. We have a modified experience for viewers using ad blockers

Wikia is not accessible if you've made further modifications. Remove the custom ad blocker rule(s) and the page will load as expected.