"They're like police. Well, police-for-hire. They're more like interplanetary thugs."
- The Doctor (DW: "Smith and Jones")
The Judoon were a species who were known to serve in mercenary police forces, most notably the Shadow Proclamation.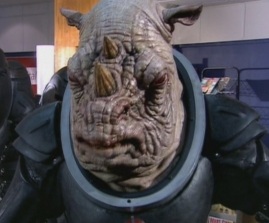 Physiology
Edit
Human observers were known to liken their appearance to that of a rhinoceros. (DW: "Smith and Jones"; SJA: "Prisoner of the Judoon")
Appendices
Edit
Appearances
Edit
References
Edit
Apocrypha
Edit
Ad blocker interference detected!
Wikia is a free-to-use site that makes money from advertising. We have a modified experience for viewers using ad blockers

Wikia is not accessible if you've made further modifications. Remove the custom ad blocker rule(s) and the page will load as expected.