Amelia Jessica "Amy" Pond was a Scottish journalist and model who travelled with the Time Lord known as the Doctor. She was the wife of Rory Williams and the mother of River Song.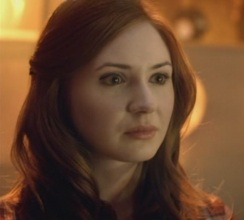 Early life
Edit
Amy Pond was born in Scotland in 1989. She was the daughter of Augustus and Tabetha Pond. (DW: "The Eleventh Hour", "The Big Bang")
At the age of six, she announced that her head teacher was not real because she looked like a cartoon. (DW: "The Big Bang")
Appendices
Edit
Appearances
Edit
References
Edit
Ad blocker interference detected!
Wikia is a free-to-use site that makes money from advertising. We have a modified experience for viewers using ad blockers

Wikia is not accessible if you've made further modifications. Remove the custom ad blocker rule(s) and the page will load as expected.